President and CEO Message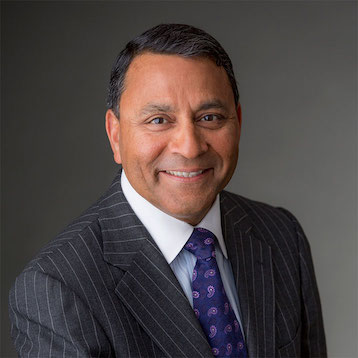 Dinesh Paliwal
President and Chief Executive Officer
This year's report, Values and Velocity, speaks to the duality of balancing business goals with principles for a sustainable future. In a rapidly changing world, it's easy to overestimate the impacts of our actions in the short term, and underestimate their efforts for the long run.
I believe that the essence of sustainability for any corporation is, at its heart, to have a strong set of values that enable the organization to move at lightning pace – not just for today's needs, but for tomorrows consumers, and the employees, communities, and environment needed for generations ahead.
There are three key qualities we strive for in HARMAN's global reputation – to be ethical, inclusive and accountable in all we do. These values fuel our innovation, diversity of thought, and business growth.
Since the beginning of HARMAN's sustainability efforts, I have been a champion for evolving our business practices to reduce our impact on the environment and deliver greater social benefit. Sustainability is anchored to each of our strategic pillars and corporate citizenship is deeply rooted in HARMAN's DNA. Among our foundational tenets is United Nations Global Compact, and its principles regarding human rights, labor, environment and anticorruption, which are core to our business strategy, culture and day-to-day operations at HARMAN.
I'm proud of our company's sustainability accomplishments and pleased to share some highlights from the past year:
We remained unwavering in our commitment to accelerate female representation at every level in the organization. Today, women hold top ranking positions within the company in Finance, Legal, Compliance, Strategy, Talent, and Intellectual Property.
We made great strides in reducing our carbon footprint. Last year, we met our goal of 10% energy reduction across our sites globally and we will continue to challenge ourselves to improve.
We are helping others drive change. In our Professional Solutions business, for example, we have developed and deployed energy-saving technologies that allow sports stadiums and performance venues to use less energy.
In our philanthropic causes, we are steadfast in our mission to empower the next generation to realize their possibilities through the power of music and "STEAM" learning experiences. We funded scholarships, like the 1,000 Dreams Fund, assisting college-bound women pursuing careers in these areas. We also provided donations of our professional audio equipment to schools within under-served communities through the Little Kids Rock programs. And we are proud to help reshape the future of transportation with partners like the University of Michigan's Hyperloop program.
HARMAN has achieved results by supporting our grassroots efforts of our 30,000 employees worldwide, and by establishing foundational corporate sustainability practices and goals through our cross-functional and multi-divisional Sustainability Council.
We live in unprecedented times, with consumer expectations, competition and society evolving at a lightning pace. But with change as a constant, two important dimensions do not change – our purpose and our values. With these foundations at the core of our principles and guiding our business actions, we are committed to enhancing our environmental, social and ethical practices. I hope you enjoy reading our report and I look forward to continuing our purposeful journey.